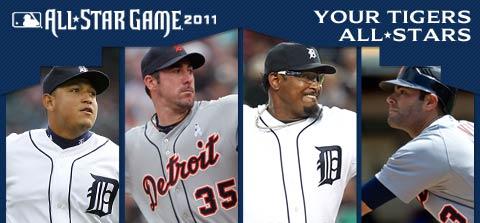 AMERICAN LEAGUE 2011
Starting at first base for the AL is the Red Sox's new slugger, Adrian Gonzalez, who's an All-Star for the fourth consecutive year and a starter for the first time in his first season in Boston.
Joining him at second base is Robinson Cano of the Yankees, who has followed up a career year last season with a solid first half in 2011, making him an All-Star starter for a second straight year.
At shortstop will be Cano's up-the-middle partner, Derek Jeter, a 12-time All-Star who's making his seventh consecutive All-Star Game start despite a rough season that currently has him rehabbing a calf strain in the Minors.
The AL's starting third baseman gives the Yankees three infielders in Washington's starting lineup. That would be Alex Rodriguez, who's now tied with Ivan Rodriguez for the active lead with 14 All-Star Game appearances thanks to a solid start to 2011.
For the first time in his career, Detroit Tigers' Alex Avila became an All-Star & the starting catcher for the American League, edging out the Yankees' Russell Martin, despite trailing throughout the voting process.
After a phenomenal 2010 season that put him on the map, Jose Bautista took it to yet another level in this season's first half. Now, not only is he a first-time All-Star starter; he's the Major Leagues' all-time leader in votes.
Thanks to a surging first half, Curtis Granderson becomes a first-time All-Star starter and gives the Yankees four representatives in the starting lineup.
And then there's Josh Hamilton, the Rangers' slugger who spent time on the disabled list but was still able to (barely) edge out Jacoby Ellsbury of the Red Sox to start for a fourth consecutive year.
The designated hitter spot goes to a second member of the Red Sox, David Ortiz, who reversed the first-half struggles that have plagued him in recent years to become a seven-time All-Star and a five-time starter.
NATIONAL LEAGUE 2011
With Albert Pujols on the DL because of a wrist injury, Prince Fielder of the Brewers -- now a three-time All-Star -- used a phenomenal first half to beat out Joey Votto of the Reds and start at first base for the NL.
Fielder's teammate for the past 10 years, Rickie Weeks, will be making his first trip to the All-Star Game after edging out another Reds standout -- Brandon Phillips.
The Mets' Jose Reyes looks like an early candidate for the NL Most Valuable Player Award. And now, thanks to a late surge in the voting, he sped past the Rockies' Troy Tulowitzki to make his second All-Star Game start.
The Phillies' Placido Polanco got the nod at the hot corner in a year that has seen both David Wright and Ryan Zimmerman miss significant time with injuries. At 35, Polanco will make his second All-Star Game start.
The Braves' Brian McCann finally got his chance, using yet another solid first half to make his seventh consecutive All-Star team and first ever start behind the plate.
Ryan Braun, who led the NL in votes, gives the Brewers three representatives in the starting lineup and is now an All-Star starter for the fourth consecutive year.
The No. 2 outfielder is the Cardinals' Lance Berkman, who has emphatically bounced back from an injury-mired 2010 season and is now an All-Star for the sixth time.
And the last starting NL outfield spot belongs to the Dodgers' Matt Kemp, whose own bounce-back year has him in the All-Star Game for the first time.
Making up the pitchers and reserves for the AL All-Star team are: starters Josh Beckett (Red Sox), Gio Gonzalez (Athletics), Felix Hernandez (Mariners), David Price (Rays), James Shields (Rays), Justin Verlander (Tigers), Jered Weaver (Angels) and C.J. Wilson (Rangers); relievers Aaron Crow (Royals), Brandon League (Mariners), Chris Perez (Indians), Mariano Rivera (Yankees) and Jose Valverde (Tigers); catchers Martin and Matt Wieters (Orioles); infielders Adrian Beltre (Rangers), Asdrubal Cabrera (Indians), Miguel Cabrera (Tigers) and Howard Kendrick (Angels); outfielders Michael Cuddyer (Twins), Jacoby Ellsbury (Red Sox), Matt Joyce (Rays) and Carlos Quentin (White Sox); and DH Michael Young (Rangers).
On the bench and the pitching staff for the NL are: starters Matt Cain (Giants), Roy Halladay (Phillies), Cole Hamels (Phillies), Jair Jurrjens (Braves), Clayton Kershaw (Dodgers), Cliff Lee (Phillies), Tim Lincecum (Giants) and Ryan Vogelsong (Giants); relievers Heath Bell (Padres), Tyler Clippard (Nationals), Joel Hanrahan (Pirates), Jonny Venters (Braves) and Brian Wilson (Giants); catcher Yadier Molina (Cardinals); infielders Starlin Castro (Cubs), Chipper Jones (Braves), Phillips, Gaby Sanchez (Marlins), Tulowitzki and Votto; outfielders Carlos Beltran (Mets), Jay Bruce (Reds), Matt Holliday (Cardinals), Hunter Pence (Astros) and Justin Upton (D-backs).
Tigers pitcher Justin Verlander shares his thoughts on making the American League team for the 2011 All-Star Game in Phoenix, AZ
Admin




Posts

: 3912


Join date

: 2010-12-16




---
Permissions in this forum:
You
cannot
reply to topics in this forum